The first (and unfortunately, only) time I saw Paul Thomas Saunders live was in Brussels, supporting Julia Stone on her European tour. I was pretty far from the front, but I remember being in awe of the shy guy with the guitar doing his thing on stage. There was a girl with him, she sang on some of the songs and their voices sounded amazing together.Paul said he'd brought CDs with him and I don't think I'd ever left the AB that quickly before, just because I knew they would sell out at some point. I was lucky enough to get my hands on one, and the very nice and talented Paul Thomas Saunders signed it for me. It was one of the music discoveries of 2012 for me, and now with his debut album out on Monday, I hope lots of other people will start listening to his music and realise what an amazingly talented artist he is.
Beautiful Desolation showcases the growth Saunders has gone and is still going through as a musician. He's always been an impeccable songwriter and his unique voice complements that, making Beautiful Desolation one of my favourite records of the year so far. There's just something about him I can't quite put my finger on that always lures me in.
Starting off with Kawai Celeste, one of the songs he released earlier on as a taster of the upcoming album,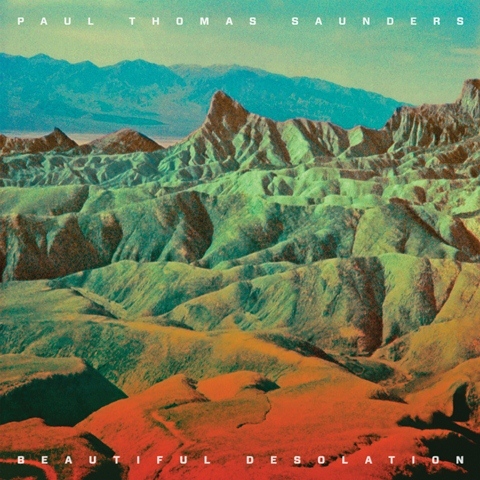 Paul couldn't have chosen a better track to open the record with. His ethereal vocals have a relaxing effect on me as I sit here, exhausted after a very long day. The first single off the album Good Women "pulls the heart strings" as Saunders so eloquently puts it. Appointment in Samarra is a more upbeat track which I've been singing along to for quite a while now, ever since I bought the Lilac and Wisteria EP on iTunes. It evolves into something more near the end of the track and for some reason it makes me think of space. In Waking and Evening Prayers for Rosemary-Mai, Saunders is waiting for a loved one hoping one day she'll return, and asking Saint Christopher to guide her home. It's a song that never quite leaves my mind.
On to another one of those teaser tracks, In High Heels Burn It Down. Saunders's voice seems to dissipate a bit being enveloped by the drums although they never diminish the integrity of the song. I am very proud to say I've known A Lunar Veteran's Guide To Re-Entry by heart for, well, forever. With his guitar taking the lead here it sounds slightly different from the other tracks but reminds me of that great Descartes Highlands EP I have lying around in my special collection. If I had to choose a favourite song I'd probably go for Starless State Of The Moonless Barrow. With Saunders practically shouting from the top of his lungs, as dreamily as shouting can possibly be "you're the defining light, you're the relentless spark that keeps me holding onto yesterday's sunrise" My mind pictures it as a vibrant mess of colour floating about, for some reason. Brilliant example of his songwriting skills right there.
Santa Muerte's Lightning and Flare is an older one, but amazing nonetheless. It's sort of a last minute of calm before the storm that comes with On Into The Night which centers around the "hold me" lyric working its way to a climax and then closing the album with fleeting vocals and piano. It leaves me with a feeling of contentment and a strong desire to have this beauty on my turntable.